Chemical Grinder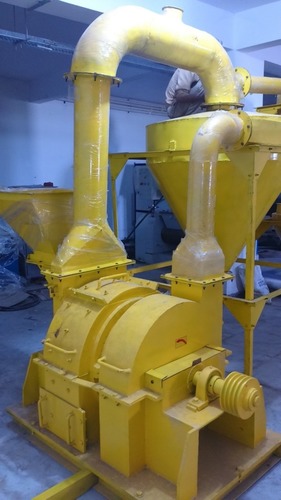 Chemical Grinder
Price And Quantity
Product Specifications
Industrial

250 Kilograms (kg)
Mild Steel, Stainless steel

Electric
Product Description
Chemical Grinder
Chemical Grinderis the heavy duty industrial setup consist of a set of blades to completely mixing of various chemicals. It is precisely designed with best grade of engineering materials that is treated with many surface treatment processes. It is a highly efficient system which requires very less power for operating the machine. Chemical Grinder is also popularly used in construction industry for the preparation of a fine concrete mixture for the easy application and rigid construction of the buildings. There is a collecting hopper through which different materials are added to the grinding unit for the crushing and milling of substances that comes in contact with the blades of the grinder.

Pulverizer Grinds up to 100 to 300 mesh fine

8,16 and 24 Beaters (as applicable) are used for grinding all types of chemical and minerals. Brilliantly designed to provide higher production capacity at lower power requirements. Also available with dust collector, bag filters arrangement.

Lime Stone ,Red Oxide,china clay, and all type of minerals can be grinded.
Chromite, Tamarind Seed, Mica Chips, Grains, Leather Chips, Asbestos and all kind of spices and minerals can be pulverized
Features:
Powered by a robust motor, this grinder offers fine grinding of chemicals
Easy to install and operate, it provides fast and efficient throughput
Its functioning system adopts balanced and continuous working
Able to withstand adverse conditions, it is best known for its rugged construction
It is highly appreciated for its competent fuel saving system
Manufactured using high grade materials and advanced technology
Widely demanded in chemical industry, it requires minimal maintenance
Anant SS 304 Grinder Machine

Req. H.P.

Size

Capacity/hr.







poultry feed

spices & herbs

wet pulses

1 to 2

4x10

100

20-25

30-50

2 to 3

5x11

175

40-60

60-100

5 to 7.5

6x12

300

100-125

150-200

7.5 to 10

7x13

500

200-225

300-400

10 to 12

8x14

750

300-350

400-450

12 to 15

10x16

975

350-400

450-550

15

12x16

1500

450-500

500-600

15 to 20

16x20

2000

550-600

600-700

25 to 30

18x24

2500

600-750

700-900

30 to 40

20x30

3000

900-1000

900-1200

40 to 50

24x24

3500

1000-1200

1200-1400

50 to 60

24x30

4000

1200-1400

1400-1600

60 to 70

28x36

4500

1400-1600

1600-1800

70 to 80

30x40

5000

1600-1800

1800-2000